Shop More & Save Big With The TopVouchersCode App
With more than 10,000 stores world-wide available at your fingertips, saving on the go has never been easier. The TopVouchersCode App available on play store and app store helps you find the best deals, and discount codes from all your favorite brands, and retailers in a single place.
Get the App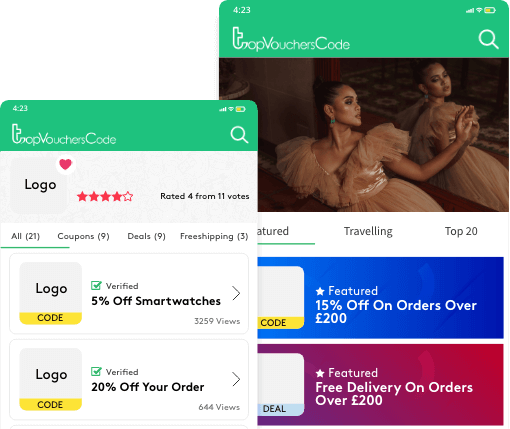 Get the App Customers Love!
3.99KOffers used this week
511Offers added this week
£1mTotal savings in 2022
Discover New Deals Everyday
Our highly qualified team works day, and night meticulously to seek out the best offers for you to avail. The app consists of thousands of leading brands, as well as some small vendors with high-value products so, running out of offers on the app is an option you'll never face.
Never Miss Out On Offers
Missing out on an offer is a problem, but with the unique in-built feature of highlighting your favorite brands, and discount codes in the app you can finally say goodbye to this problem. The unique feature will notify you every time a new deal arrives, allowing you to get your hands on the item before anyone else.
Voice Command Search
You don't need to type in anymore to search for your required brands or codes. Just say it out with our voice command search and get results in a blink.
Get the App
Sign-up To Get Latest Voucher Codes First
Be the first one to get notified as soon as we update a new offer or discount.
By signing up I agree to topvoucherscode's Privacy Policy and consent to receive emails about offers.